When I started programming in Python long ago, one of the features which really hooked me up was the quality interactive interpreter offered with the language implementation. It was (and still is) a fantastic way to experiment with syntax, semantics, modules, and whatnot. So much so that many first-class Python practitioners will happily tell you that the interactive interpreter is used not only as a programming sandbox, but many times as the their personal calculator too. This kind of interactive interpreter is also known as a REPL, standing for Read Eval Print Loop, and many languages have pretty advanced choices in that area by now.
After much rejoice with Python's REPL, though, and as a normal human being, I've started wishing for more. The problem has a few different levels, which are easy to understand.
First, we're using Python Twisted in Ensemble, one of the projects being pushed at Canonical. Twisted is an event-driven framework, which among other things means it works a lot with closures and callbacks. Having to redefine multi-line functions frequently to drive experiments isn't exactly fun in a line-based interactive interpreter. Then, some of the languages I've started playing with, such as Erlang, have limited REPLs which differ in functionality significantly compared to what may be done in a text file. And finally, other languages I've been programming with recently, such as Go, lack a reasonable REPL altogether (there are only unusable hacks around).
Alright, so here is the idea: what if instead of being given an interactive REPL, you were presented with your favorite text editor, and whenever you wrote the file down, it was executed and results presented? That's The Hacking Sandbox, or hsandbox. It supports 11 different programming languages out of the box, and given its nature it should be trivial to support any other language.
Here is a screenshot to clarify the idea: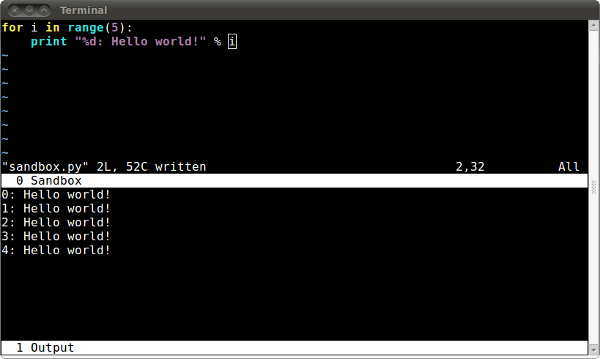 Note that if you open a sandbox for a language like C or Go, the skeleton of what's needed to run a program will already be in place, so you just have to "fill the blanks".
For more details and download information, please check the hsandbox web page.